The move is aimed at catering to those Tata 407 owners who are looking for a shift towards a greener ecosystem.
iX Energy, a clean energy startup, has developed an innovative technology solution to convert the popular and reliable Tata 407 LCV into an EV without compromising on performance and robustness.
Key Features
Fast Charging
Gradeability Same as Base Vehicle.
IP 67 rated water and dust proof drive parts
Advanced battery cooling system for safer operations &
longer battery life
Real time fleet monitoring
Geofencing
Maintenance Reminder
Driver Score Tracking
Smart Regenerative Braking
To ensure that the converted Tata 407 EV performs just as well as its diesel-powered counterpart, iX Energy has developed an in-house EV conversion system. This includes a powertrain, battery pack, cooling systems, user interface, telematics system, and proprietary software to ensure great performance and safety. During the design and integration phase, iX Energy ensured that the original structure and dynamics of the vehicle were maintained while replacing the engine and all systems driven by the engine with their electric counterparts, such as the EV powertrain, brake system, and power steering.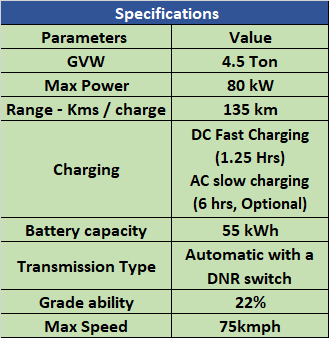 As per a company statement, the EV-converted Tata 407 has a range of 135 km on a single charge and a maximum speed of 75 kmph. It can also climb grades of up to 22% at full payload. The battery can be charged up to 80% in just one hour using a DC fast charger. Alternatively, owners can choose to charge the vehicle at home or the office using an AC power supply with onboard charging, albeit at an additional cost.
The converted Tata 407 also comes with an automatic transmission to improve driving efficiency and comfort, reducing driver fatigue during congested traffic conditions.